Sally's blog December
20th December 2017
Admin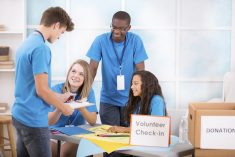 Volunteers, volunteers and… volunteers
Most of you who read this blog volunteer, even if you don't all realise you do. Sometimes people 'help out' and believe me, this is a brilliant way to help any voluntary led group that is doing it's best to support their members.
You may not support a group and may help a friend or neighbour – there are so many different ways of identifying 'volunteering' that I personally believe it's far more
embedded in our culture than many think. I personally have lots of formal and informal voluntary roles and of course work in this world too; however, my husband doesn't formally 'volunteer' but is always the first to help a friend or neighbour who needs something doing. It all counts.
One thing I really notice is that most 'volunteers' that I know, like to be asked and directed and yet there is often a real fear from charitable/voluntary organisations to direct those helpers – almost as if they worry they might lose people if they direct too strongly. So how much is too much? Is it down to the discretion of the leader of any group, or should it be determined on an individual basis? I'm interested to know what you think.
Answers on a postcard please (or text/email/social media…)
Sally