Throughout 2020, our resilience has been well and truly tested and as we continue in to 2021 and beyond we still face huge challenges. Organisations have had to adapt, communities have stepped up and they have been adapting and thriving throughout the adversity that has been on their roadmap.
Communities have seen the challenges as an opportunity and people have grown closer and been able to rely on each other – there has been a true sense of 'we are in this together'… you only need to read about organisations such as Love Your Doorstep to see how a community can support itself with a little direction, planning and communication. Emma Rigby, founder, has shown that the services provided within a community are critical and has opened them out so that they can be reached by everyone who needs support.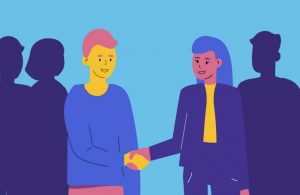 In order to increase your membership, recruit volunteers, raise funds and drive your organisation forward you need to communicate with your people – you need to harness their power and understand their motivation. In general – people want to help, not just because of what you do but also why you do it… Your core values align with their core values… The Why… Simon Sinek delivered a TedTalk 10 years ago detailing why the 'why' is so important! Your people want to know what your organisation does – what is your mission. Woodcraft Folk, founded in 1925 are all about the advancement of education and the empowerment of children and young people for the public benefit by 'encouraging children and young people to participate in society, improving their lives and others through active citizenship; and promoting the interests and welfare of children and young people.' This sets them apart and shows their members and donors why their values are being put to work and how their work shapes their future and the future of their beneficiaries.
Syd Dennis from Rhondda Cynon Taf County Borough Council (RCT) spoke at our Groop conference – Volunteering is for Life – not just for Covid in November 2020, she detailed the impact the council and their volunteers have had throughout the 2019 floods and then through the 2020 pandemic – their volunteers have made a difference and RCT can evidence the work they have done and inspire new volunteers and support through their Why…
By evidencing your impact you can get across the message that help is needed, donations are required, new members are welcome – your audience can understand what they can do and how they can help. In the case of RCT, they could show how the pandemic affected their communities and they could clearly convey the relevancy of their work – this inspired swaths of volunteers who truly understood why their help was needed.
Whilst we are stuck at home or planning our forthcoming freedom (roadmap depending!), the frustration of not being able to make a difference has been real – however, this period has been an opportunity for many community groups and charities, they have been able to create action and sustain that action by enabling micro volunteering or detailing what help they need from the people in their community to make an impact – they have motivated many to take part – harnessing the power of their people… and most importantly making it easy – quick sign up forms, easy communications, speedy DBS checking, ultimately ensuring that barriers have been taken down and enabling quick action and impactful results.
Having a clear mission, setting your organisation apart and showing your measurable impact will clearly deliver your message and motivate your organisation and your people to act – enabling your organisation to pivot, to react and to plan for whatever 2021 brings.
Many of the organisations above use Groop to communicate with their people, plan and run events (virtual ones too!), raise money and evidence their impact – call us for more information or sign up for a free trial.